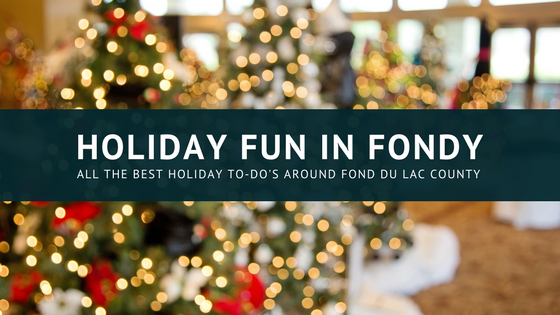 It's the most wonderful time of the year for Fond du Lac County!! And there is no shortage of fun-filled holiday themed activities in our area to help bring out that Christmas spirit! We've compiled a list of our top 6 favorite holiday themed activites around Fond du Lac county, that are fun for the whole family.

Lakeside Park Lights
Fond du Lac is famous for our light displays in Lakeside Park! Overlooking frozen Lake Winnebago, people come from all over Wisconsin to catch the light show while enjoying the warmth of sitting in the car! Tune your radio to 87.9 FM to listen to the music along with the light show. There are 7 songs, and the whole show is about 20 minutes long. The lights are held every night from dusk – 11pm from November 23rd through January 3rd . http://www.fdllights.com/
Kristmas Kringle Shoppe
This Fond du Lac favorite gift shop is an awe inspiring 10,000 sq. ft. of EVERYTHING Christmas all year round! From gifts and ornaments to collectables and decorations, the Kristmas Kringle Gift Shoppe offers anything & everything you might be shopping for this holiday season! Open from 10am-6pm most days. http://www.kristmaskringle.com/
Thelma Sadoff Center for the Arts
The Thelma Sadoff Center for the Arts offers many fun, family-friendly holiday activities, including music concerts, holiday arts & crafts classes, theater performances and much more! Look for their Studio 51 arts & crafts classes held every Saturday from 11am -2pm, they are open to the public and typically cost $15 per attendee. https://www.thelmaarts.org/
The Fraser Christmas Tree Farm in Ripon
There's something magical about strolling through a Christmas tree farm and finding that perfect tree. And the Fraser Christmas Tree Farm in Ripon definitely brings that magic to life! Take a horse & wagon ride to find that perfect tree and warm up in their heated wreath shop with hot cocoa & cider! Open 9am-4pm most days (please check their website for full times and open dates) http://www.frasertreefarm.com/
Sledding at Buttermilk Creek Park
If you're looking for ways to enjoy the snow this holiday season, Buttermilk Creek Park in Fond du Lac has the perfect sledding hill for the kids to enjoy! The park is 20 acres, and offers 2 playgrounds, tennis courts, basketball courts, restrooms and picnic areas. Remember to dress warm & bring some hot cocoa to enjoy in between sled runs! Buttermilk Creek is open to the public all day.
Ice Skating at Blue Line Family Ice Center & Lakeside Park
Blue Line Family Ice Center has public ice skating dates open this holiday season! Cost is $5 for Adult, $3 under 18, Skate Rental is $3. The Lakeside Park outdoor ice skating opens in mid-January and is free to the public! Skate rental is $5. Stop by the concession stand on the weekend and warm up with some hot cocoa! See below for Blue Line Family Ice Center public ice skating dates: Tuesday, December 26th: 10:30am-1:30pm, Wednesday, December 27th: 10:45am-12:45pm, Thursday, December 28th: 12:00pm-1:45pm & Friday, December 29th: 12:45pm-1:45pm. http://www.fdlblueline.com/page/show/4711-public-skating-and-parties
For more information on the above information, please click their website link, or give us a call at 920-923-7777!