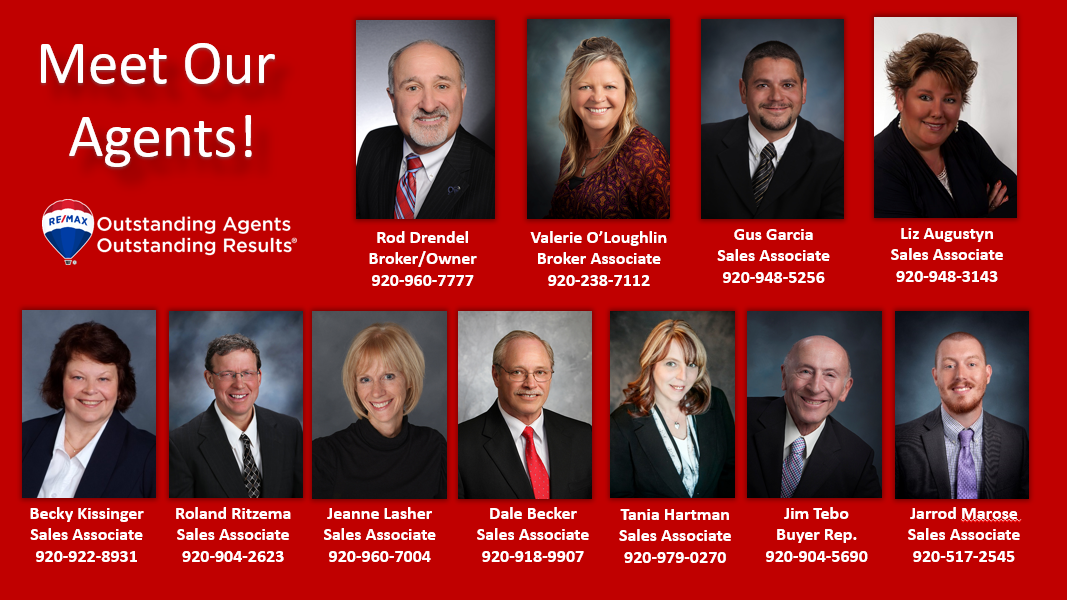 Founded in 2009, RE/MAX Heritage has now entered its 8th year in business! RE/MAX Heritage was founded by Broker/Owner Rod Drendel in his efforts to add integrity, honesty and high performance to the real estate industry. After much contemplation and intense research into the numerous real estate brands in the Fond du Lac area, Rod found the RE/MAX brand as the perfect match to mirror his philosophy of building relationships and "soaring above the competition!" RE/MAX is the perfect blend of local ownership with the power of the #1 brand in the real estate industry. RE/MAX now has 103,491 sales associates in over 6,886 offices and is in nearly 100 countries worldwide. We are pleased with 7 continuous years of growth resulting in a 300% increase in yearly completed transactions since opening our doors in January 2009.


With grateful hearts, the staff and agents of RE/MAX Heritage are proud of the overwhelming success of the last year! While the real estate industry continues to rebuild, RE/MAX Heritage experienced 21% increase in the number of homes sold by the office in 2015. This is while our local area experienced less than 10% increase. (Statistics provided by R E Stats based on 2015 Residential Home Sales.) RE/MAX Heritage whole-heartedly believes that this success is due to the loyalty of our clients and customers and dedication of our agents and staff. Thankfully, our clients and customers understand and appreciate the importance and power of the RE/MAX brand and name!

RE/MAX Heritage agents averaged over 36 transaction sides per agent, well surpassing all other local agencies. For the 8th consecutive year, RE/MAX Heritage once again led the local market for the least amount of days on the market from list to sell and 20 days faster than our closest competitor. (Statistics were provided by R E Stats based on 2015 Residential Home Sales.) RE/MAX Heritage is proud of the tech-savvy marketing tools provided to their customers and clients. These tools include 24/7 service thru a user and mobile-friendly website, efficient and detailed virtual tours, photographer on staff and proficient training throughout the year on recent trends and changes in the real estate industry. Check out the ever popular RE/MAX mobile app. If technology is not your fancy, contact RE/MAX Heritage during normal business hours Monday thru Friday from 9 a.m. to 5 p.m. to speak with a friendly, knowledgeable staff member or sales associate for more information! Night and weekend hours by appointment.

Whether you're looking to buy or sell a house, RE/MAX Heritage has the knowledge, experience and proven track record to help you will all your real estate needs! The RE/MAX Heritage staff consists of 9 full-time agents and 6 support staff members. RE/MAX Heritage is a cohesive and unified team, which is excited to serve all your real estate needs.

RE/MAX Heritage is conveniently located at 116 N. Main St, Fond du Lac. The staff and agents can be reached at 920.923.7777 or info@wesellfonddulac.com.